Fast Food Fight — Who Has Your Favorite Fast Food?
Do you want it your way?  Are you more into loving it?  Do you know where the beef is? There may even be the chance yo quiero running for the border. This week's Think About It Thursday wants to know what's your favorite fast food?
Do you enjoy golden arches and creepy clowns?  Maybe you like weird king costumes?  Some of you are really into pig-tailed gingers!   Doritos hard shells and a talking Chihuahua get some people through the day.
We here at FPL want to know if you are in a rush and need your fast food fix, where are you going for your favorite fast food?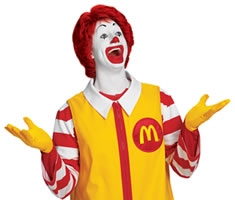 Both of these guys are pretty damn creepy!
I don't care if you are a health nut!  I know this stuff is horrible for you, but if you had to choose one of these four places to be on a desert island with you, which one are you choosing?
We're talking the big 4!  McDonald's, Burger King, Wendy's, or Taco Bell!
If it comes down to it, Yeti Vedder is going to the ginger, as I believe Wendy's is the fanciest of fast foods.  The last one I am going to is McDonald's, as even in their commercials, their burgers look gross!
Taco Bell, I'm sure, is the favorite fast food choice for the late-night drinkers and smokers. There really is something entirely satisfying about knocking back a Doritos Nachos Locos Tacos or two. Did you know that it was their most successful product — ever!?! They have sold more than 500 million of those things since they were introduced in 2012.
So look below and give us your vote as to who your favorite fast food restaurant (if you can call them that) is.
Related posts: