The Mind Of The Yeti: Happy Halloween
[I want you to shout this like it is the beginning of a new rap song.]  This is Yeti Vedder coming at you live and in full effect!  Sometimes my thoughts are just bizarre, while other times you might be thinking the same damn thing!   Turn me up in my headphones and drop that beat, because Yeti Vedder is about to spit some hot fire!
* Happy Halloween everyone! Halloween means something different to everyone. It is the one day kids are allowed to take candy from strangers and their parents are totally cool with it. It is the day for girls that usually dress conservatively to let it all hang out. It is the day that creepy dude from work gets a little bit creepier and dresses with "fake blood" on himself.  Now that I think about it, this is pretty damn weird holiday … but still, Happy Halloweeen!
*Disney is buying Lucasfilm for $4 billion. I understand all the Star Wars nerds are extremely excited about this, but do you really think that Disney is going to knock this out of the park? The original three movies were bad ass. The next three were okay at best. If the next three follow this pattern, they will be just awful. If you crap in a DVD container and put Star Wars on the front of it there are certain people I know that would love it. So if it makes you happy I guess!
* The Lakers looked real good last night. If by real good I mean old and horrible. If the Heat stay healthy all season I don't see anyone beating them. Ray Allen wide open is just a little better then Mike Miller. I think the only team that can compete with them is the Lakers, but they need to get healthy and remember how to shoot from outside of 8 feet.
* Think Phil Jackson is waiting by his phone yet? Do you like that I have Mike Brown fired after one game?  Hey Mike, notice the ring!
* Laker fans everywhere should be thanking the Oklahoma Thunder for trading James Harden. They have a 2-3 year window to win with Kobe and Oklahoma just made that a little bit easier.
* Hurricane Sandy was a hell of a storm for a Category 1 hurricane. Imagine if it had been a 2 or 3? I just hope everyone out there is getting their power back and that your property damage is minor.
* Chris Christie praised Obama for his work with FEMA and the Sandy recovery. It is like a breath of fresh air to see a politician know what is important at this time. Sure he backed Mitt Romney, but there is a bigger issue here and Obama handled it wonderfully.
* I was glad to see the New England Patriots we all thought we'd be watching this season simply dominate in London. Brady was awesome. The defense was solid. Gronk was hilarious and is finally starting to look healthy. This team has the ability to be awesome. I really hope they get healthy over the bye week and ride the momentum of this victory through the rest of the regular season.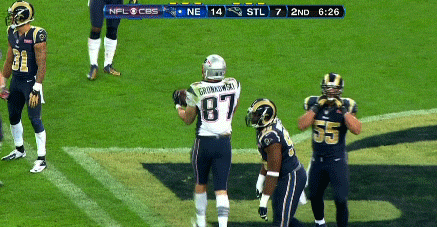 * I will definitely take my Kate Upton on the cover of SI over my Kate Upton on the cover of Vogue. Who am I kidding? I'll take any kind of Kate Upton!!!
* Justin Timberlake and Jessica Biel officially tied the knot. I just have one thing to say Jessica. To quote the great Vanilla Ice, "drop the zero, and get with the hero." The dude didn't even invite all the guys from N'SYNC. Somewhere, while working at Pizza Hut, Chris Kirkpatrick and his braids are very hurt.
* This is something I didn't see myself ever saying, but I am a big fan of Bruno Mars. I love his new song.
* Josh Beckett Douche Of The Week: Mark Cuban. Don't mess with my Lakers bro! You can't just hope that they suck! That would be like America hoping your TV show Shark Tank sucked. Oh wait …
* Rondo is slowly but surely becoming one of the biggest punks in the NBA.  Be afraid Celtic fans. Be very afraid.
* Tweet Of The Week: @DougStanhope I've quit smoking cuz cigs were 2 blocks away and I stopped drinking tonite cuz the ice machine is 4 floors up. Lazy is adequate rehab.
* Old School Jam Of The Week: Hip Hop Hooray! Ho! Hay! Ho! This song is so much better then OPP! There I said it! Let the debate begin! I would watch Romney and Obama debate this!!!
* Eliza is 100% not down with OPP. Mainly because she know me.
* Boardwalk Empire is sort of creeping me out this season. I'm a pretty hard person to creep out. If you have been keeping up with this season you know what I mean! I am no spoiler as I know some peeps like to watch stuff on DVR. It does work, however, for a Happy Halloween.
* If you are one of the people supposed to be giving out candy tomorrow, but instead gives out dimes, everyone hates you!  It is all about the candy!
* The best Happy Halloween song is "Thriller" and the worst is "Monster Mash." No one likes the "Monster Mash."
* Where have you gone Elvira, our nation turns its lonely eyes to you.
Any questions or comments you can find Yeti on Twitter @YetiVedder.  He'd love to hear from you!
Related posts: