Cardboard Combat – 4.20.12
(By TheWayIsHere)
Along with all of the emotional baggage I carried with me to Fifth Period Lunch from my last blog, I also decided to bring the now-defunct Clash of the Cards section.
As a child, I, like so many others, collected baseball cards. Typically, cards have a generic action pose – a pitcher pitching, a hitter swinging, etc. But every now and then, especially with older cards, you get a once-in-a-lifetime shot.
Perhaps it's a beautifully-manicured mullet dancing gracefully in the wind. Or maybe it's a bushy unibrow. Hell, maybe it's just a dude standing in an awkward position that deserves to be ridiculed.
Cardboard Combat is the arena for two of these memorable cards to square off – and for you, the reader, to decide which one is the victor. Only one can survive! It's your choice!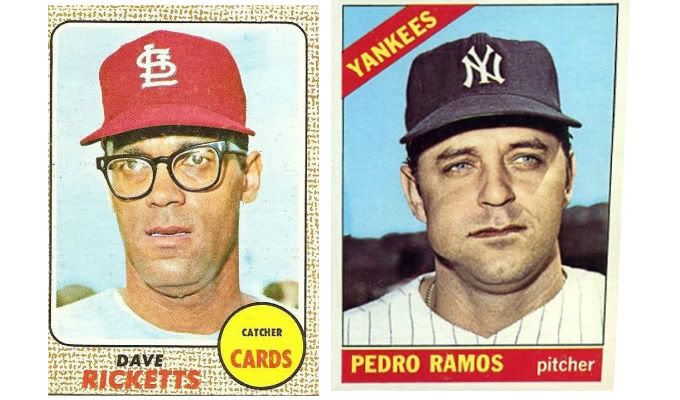 1968 Dave Ricketts
This is who I want catching for me if I'm a pitcher, that's for damn sure. Hey Dave, the camera is over here homie. There's just something about thick, Coke-bottle glasses with a black frame that screams baseball star. Same can be said for the unsightly double chin, the hat that appears to be four sizes too small or the fact that he looks like he's been deceased for 8-10 hours. One thing is for sure though – Ricketts could play. Guy had a career average of .249 and one home run over 130 games. Is that a lazy eye I see?
Key Stats: Can see Mars without a telescope; gets cast as a dead man/murder victim in TV shows; looks damn good in black-framed glasses
1964 Pedro Ramos
A Latino with blue eyes – there's something you don't see every day. Pedro is so fucking cool, he doesn't even need to spit out his chaw during a photo shoot. The photographer asked, but Pedro just laughed and said something in Spanish. He just has that look about him, ya know? That look where he seems to be saying, "Yeah, I've touched some little boys in the past. What of it?" Like Ricketts, Pedro is proud to sport his double chin. El Gato could also pitch too, as evidenced by his 117-160 career record over 15 seasons. Vote for Pedro – or don't. He doesn't care.
Key Stats: Led the American League in losses four straight seasons from 1958-61 and had double-digit losses in each of his eight seasons; never takes tobacco out of mouth; came here for two things – to pitch a ballgame and fondle little boys… looks like we're all out of little boys
Who ya got?
Related posts: