The Mind Of The Yeti – 8.22.12
(By YetiVedder)
*  Don't judge a book by its cover, unless it looks like that cover may murder you! Then judge away!
*  Am I the only one that feels bad for Carl Crawford? I really hope he comes back with a bionic throwing arm like Henry Rowengartner.
*  The Sox fired Bob McClure, their pitching coach? Look out playoffs!
*  I feel like I have made that joke at least 5 different times this season.
*  If you are an Eagles fan are you already feeling like your season is over? Your starters looked decent against the Patriots 3rd team. Michael Vick looks strong though. Is he made out of glass? He gets broken every other week because someone on the other team was rough housing!
*  The Eagles should go out and sign The Garbage Picking Field Goal Kicking Philadelphia Phenomenon. I can't believe Tony Danza played a kicker.
*  Vick is a legend in Madden the video game though. I would put him right up there on the same level as Bo Jackson in Tecmo Bowl or Mario in Super Mario Brothers.
*  Has anyone noticed that Derek Jeter is having an MVP season? He is still no Nomar! Remember when that was a real argument?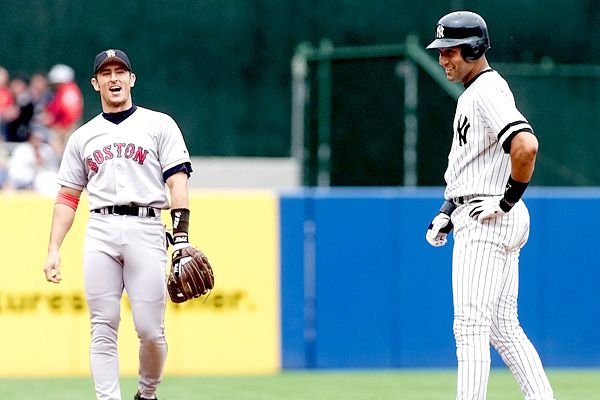 *  Roger Clemens is coming back to pitch again. He totally sounds like a guy that wouldn't take steroids to lengthen his career. A lot of players come back to pitch at 50. Is Canseco on this team with him?
*  I haven't said this in at least 5 years. I really like this new Dave Matthews Band song. It is almost as if I want to hang in my college dorm room with a 30 rack and this song blaring with my door open hoping that a hot chick might walk by. Ahhh, the good old days!
 *  Eliza would have probably heard #41 or Crush when she walked by. Looking back all those girls in college probably thought I was the biggest loser!
*  There are so many bands and comedians I would love to see come back around on tour! Gallagher is not one of them!
*  Eliza, meet Elisha. Elisha, meet Eliza. This would be a pretty awesome conversation to be involved in once all the Yeti Vedder money starts rolling in!
*  Homeland's second season begins this fall and if you missed the first season, watch it now so you can get caught up as the show is simply BADASS!
*  Movie idea…. You know how they keep doing all these Bourne movies showing him younger and younger? I want Jason Bourne on the kickball field. Maybe a cafeteria scene where he steals a kid's pudding? Bourne Long Division would be the name. It would show Jason as an awesome athlete, but not so strong mathlete!
*  Has another actress aged more like a fine wine then Katey Sagal? Her photo should be used to define the word cougar!
*  Where have you gone Nicole Eggert, our nation turns its lonely eyes to you.
Any questions or comments please email Yeti at Yetivedderfpl@gmail.com.  He will get back to you!  Also please follow Yeti on Twitter @YetiVedder.
Related posts: