Mind Of The Yeti: Wes Welker, Leprechauns and Lipnicki
I have never questioned Bill Belichick and I am not going to start now. I didn't question when he went for it on 4th-and-2 against the Colts.
I didn't question when he brought in Chad Ochostinko and Albert Haynesworth. I am not going to start questioning him when he doesn't resign Wes Welker. He has won three Super Bowls and turned what was once a joke organization into annual contender.
I don't want to shock all of New England when I say Welker isn't winning or losing us a Super Bowl next year.
Can you name the best wide receiver on the three Super Bowl-winning Patriot teams? It wasn't Welker. It wasn't Randy Moss. It wasn't Chad Ochocrappo. It was Deion Branch. It was David Givens. It was Troy Brown. No wide receiver is going to make or break the Patriots. The offense goes the way Tom Brady goes. Did Welker and Brady have an amazing connection? Of course, they did. Maybe almost too comfortable. Hear me out.
When it was third-and-short, it was no longer in the cards to run the ball. Brady was looking for Wes. I think at times it was to a fault. You almost knew what the Patriots were going to do on offense. Without Welker, what will they do? Rely on the run more? Throw more to the tight ends? Make Danny Amendola the new Welker? No one knows but Bill Belichick and that unpredictatability makes the Pats offense refreshing. It makes them more threatening.
It makes us all remember that you shouldn't question Bill.
I will miss Wes Welker. He was a fun player to watch and like I said he had an undeniable connection with Brady. So did Moss, and I miss him sooo much more then Welker, mainly because Moss could break that exciting 75-yard TD pass. He was a freak of nature.
I'm not saying Welker isn't a fantastic player. I am saying that I think we will be fine without him. We just have to wait and see who will be the next Deion Branch? Who will be the next David Givens? Who will be the next Troy Brown? Who will be the next Wes Welker!?! Whoever it is, it will happen and we will all be happy in New England.
In Bill I trust! And so should you!
Now my DEEP thoughts for the week.
*Now that Welker is gone, I really hope we make some BIG defensive signings. I would like to see a solid safety get signed. (Cough, cough, Adrian Wilson.)
*Zero Dark Thirty should have won Best Picture. It was the best movie of the year and in my opinion, it wasn't even close.
*I don't need to drink green beer, listen to Irish music, or eat corned beef and cabbage to prove that that I'm Irish on St. Patty's Day. I won't even wear green anymore. I will simply drink like a good Irishman and make fun of all the amateurs like I normally do.
I like to call it a typical Friday night.
*However, I do love this about St. Patrick's Day!!!
*That last paragraph made me sort of hate myself. Next thing you know I'll be judging your taste in music, wearing glasses, typing this in a Starbucks so everyone can see me, and thinking that my own farts don't stink.
*The leprechaun is 100 percent the creepiest holiday mascot. I put it right up there with clowns on a creepiness factor. The movie "The Leprechaun" didn't help the cause either!
*Mark my words Boston, this Red Sox team is going to surprise a lot of people! I think Mike Napoli is Fenway is going to be a very scary thing for opposing pitchers. We know he has a good eye from this photo!
*Kate Middleton definitely has that sexy "I'm going to be the Queen of England" vibe about her. She is super rich, yet still seems like the kind of girl you'd want to hang out with. I can see why England loves her.
Tweet Of The Week
*Don't look now but the Lakers are still officially in the playoff picture. Sure, you have scrubs trying to injure Kobe Bryant, but with Pau Gasol coming back this team will be at "full strength" and have a great chance to make a push for the sixth seed. If they get it, like I have said for a while now, they will be the most dangerous team in the playoffs — besides that annoying team from South Beach.
*If you don't love this Boston Bruins team then you have serious issues. The first two lines have been playing awesome hockey and Dougie Hamilton is going to be an All-Star. That Phil Kessel trade just gets better and better!
*Remember Sanjaya from American Idol? Yeah, me neither, but he is now singing in the subway. American Idol has really made his career take off.
Tell me that he doesn't look like a crack head. My favorite part of this video is when he takes off his winter hat and places it on the ground only to start crooning. Hey Sanjaya, you're going to need a bigger hat!
*Hey New York women in restaurants … Look out!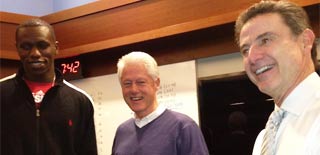 Josh Beckett Douche Of The Week
Dahntay Jones: When a player purposely tries to hurt someone else that is one thing. When you mess with the mamba? You win a Douche Award! Especially when you are known for this bush league move!
*Rumor has it my girl Eliza has a new website. Check her out on http://www.elizapatriciadushku.com/ or you can see her this weekend when we go to dinner at Applebees and she feeds me chicken fingers.
*Congrats is in order for the new Pope! I think you will be one of the popiest popes ever!
P.S. Can I borrow your hat?
*My NCAA Tournament pick? Duke
Old School Jam Of The Week
"Scenario," by A Tribe Called Quest. This is possibly the most underrated rap group ever. Tribe is one of the only rap groups out there where I can listen to all of their albums from beginning to end and not want to skip a song. This song is also where Busta Rhymes broke out and became famous.
*Dave Chappelle going on tour with Chris Rock is like The Beatles playing with The Rolling Stones. It would be an unreal comedy show. Tickets are going to be way too expensive though!
*If you can't wait for the Cool Ranch Doritos Taco to come out, I am pretty sure that you are a gross human being.
Where have you gone Jonathan Lipnicki? Our nation turns its lonely eyes to you.
Related posts: